Things I'm Liking
A quick round-up of things that I'm liking this chilly winter Thursday (NPR kindly told me it was 30 degrees in NW DC on my way to work, maybe it's the Texan-turned-East Coaster in me, but I didn't think it was THAT cold)
Catching up on my programs: After the election, I kind of dove head-first into "pop culture comfort food" and only watched Gilmore Girls (also in prep for the revival--have I talked about that yet?) and re-read books I already knew I loved. I put some shows on the back-burner, but have recently picked them back up again. I finished season 3 of The Americans (and when will season 4 be On Demand, FX?!?!), am continuing to watch The Crown (I think I have two episodes left), and have started Six Feet Under again (did I mention I was watching this show? It's going to be slow-going, I can really only watch one episode at a time because death makes me sad, but it's SO GOOD).
These gloves
: Living in a place with Real Winter means I have learned a LOT about winter accessories and what cuts it. What doesn't? $5 gloves and hats from Target and Old Navy. Talk to my frozen fingers and ears about those. What does? Items from well-known and established brands. These gloves are Isotoner, fleece-lined (the minute I put them on I said "OOOOOO") and perfect for when you need your hands to stay warm, but still access your phone and use your fingers (love me a good mitten-hybrid).
Downton Abbey: Thanks to a local PBS station running a DA marathon ALL WEEKEND LONG last weekend, I may have had a quieter weekend than planned. I was pet-sitting for a friend, and it was cold outside, so I chose to lie on the couch with her puppy and watch DA for many hours. And, man, you forget some of the earlier seasons and the problems they faced. A friend was over during the Spanish Flu episode of season 2 and truly horrified at what was happening on the screen (it got real in that episode, y'all). But gah, I think I will always love revisiting The Crawleys and that amazing house.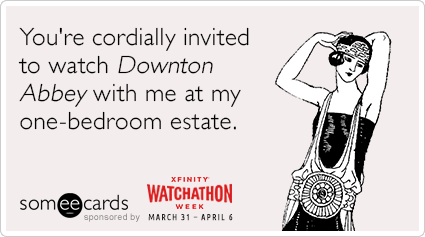 Fab Fit Fun:
Akin to Birchbox, this company sends you a box of goodies quarterly--a mix of beauty supplies, accessories, fun things (I got a to-go coffee mug and some adult coloring books in my box). The cool thing (to me) is that you get full-sized versions of things. Full bottles of beauty products, and real-world sized things (my blanket scarf I got from them is practically a blanket). And they're from real brands--Modcloth, Zoya nail polish, etc. So for $40 every three months, I get a box of treats. Given that I likely spend that much on useless CVS purchases in ONE month, I'm hoping this will curb those expenditures and also give me something to look forward to (want to try it out? Here's my
referral link
). Given my disaster with Stitch Fix (not sure I ever shared about that . . . ), I was skeptical, but my first box was a winner, so I'm looking forward to what's next.
And that's it folks. Stay warm.